Thus was the creation of the 10,000 Acer Dance Corps.
We will introduce the history of naha's large event "10,000 Acer Odori-ding Party" which lasts about 25 years with photos.
1. Preparation for the 10,000 Acer Dance Party
A press conference was held about a month ago to announce the event. Until the event date, we prepared with the cooperation of many people, including the Kokukokuso-dori Shopping Street.
2. Just before the start of the event
The day before the opening day, a street basketball tournament was held, and thousands of young people competed for skills to increase the mood of the event. Just before the event, a new entry style was born to enter the dance venue while taking the shopping street on the road, further enlivening the event. Michi-June is a "kneading procession" in Okinawan language.
3. Opening to Closing
On July 30, 1995, the 1st "10,000 Acer Dance Corps" was held. About 20 groups of brave performances, taiko dances by 3,000 men and women of all age, and live performances by Okinawan band groups were performed, attracting visitors with the enthusiasm released from the "miraculous mile". The success of this event was supported by many local volunteers and the ingenuity of each store to create a festival economy in the shopping district.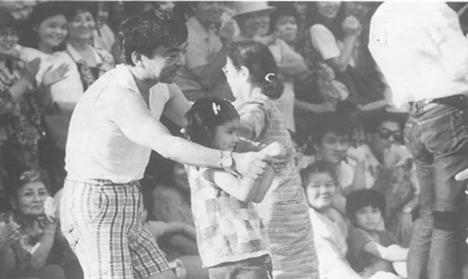 Currently, it is well-known as a representative summer tradition of Naha, but now, 25 years after the event, we have accumulated the cooperation of many people and a lot of trial and error, and we are continuing the event. We will continue to perform "10,000 Acer Odori-ding" for traditional performing arts, local cultural creation activities, and the development of okinawan economy.